Winston "Gus" Cooper Manor
Winston "Gus" Cooper Manor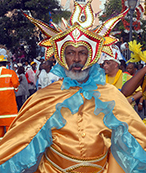 On July 7, 2022, three days before The Bahamas' 49th anniversary of Independence, Arawak Homes officially opened Winston "Gus" Cooper Manor off Carmichael Road in honor of the legendary leader of the world-famous Valley Boys junkanoo group. A perfectionist with an incredible eye for detail, Cooper led the category "A" junkanoo group to many exhilarating wins in the Boxing Day and New Years Day Junkanoo Parades.
In addition to advancing Bahamian culture through Junkanoo and mentoring hundreds of young men and women in the Junkanoo shack, Cooper also played a significant role in the development of sports in the country.
Cooper, who got his start as a Physical Education teacher, was appointed as the first Director of Sports in the Ministry of Youth, Sports and Community Affairs in 1977. He held the position until 2000 when he was appointed Deputy Permanent Secretary in the Ministry of Youth, Sports and Culture.
Location and Amenities
Located off Carmichael Road.
Within walking distance of bus stops, schools, churches, banks, service stations and restaurants.