Sir Lynden Pindling Estates
Sir Lynden Pindling Estates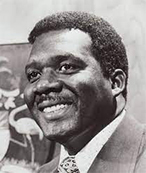 Sir Lynden Pindling Estates was named in honor of the first Bahamian Prime Minister Sir Lynden Pindling in 2000. Hailed as the "Father of the Nation", Sir Lynden is credited with leading The Bahamas to Majority Rule in 1967 and to independence on July 10, 1973. Sir Lynden is the country's longest serving prime minister, having served in this capacity for 25 years. Described as the architect of the modern Bahamas, Sir Lynden led the country during the establishment of the National Insurance Board, College of the Bahamas and many other organizations that continue to thrive today.
An attorney by profession, Sir Lynden joined the Progressive Liberal Party (PLP) in 1953. In 1965, he was elected to the House of Assembly for the Southern District, New Providence. A towering figure in Bahamian politics, he served as a member of the House of Assembly for 41 consecutive years.
Location and Amenities
Located off Charles W Saunders Highway.
Family-friendly community.
Near South Beach Police Station.
In close proximity to schools, laundromat, restaurants and churches.
Near Prince Charles Shopping Center.