Doris Johnson Estates
Doris Johnson Estates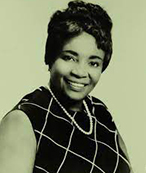 In 2001, Doris Johnson Estates was named in honor of Bahamian teacher, suffragette and politician Dame Doris Johnson. In 1959, she led a demonstration to Parliament and gave an impassioned speech on women's right to vote. It was a turning point in the Women's Suffrage Movement.
On February 23, 1961 the House of Assembly enacted the law to give women the right to vote and sit in the legislature with effect from June 30, 1962. That year, Dame Doris was the first Bahamian woman to be nominated to contest a seat in an election. Though she he did not win, it did not deter her efforts to break barriers for women and she went on to accomplish many firsts. Dame Doris was the first woman to be appointed to the Senate, to become President of the Senate and to be appointed as a government minister.
Location and Amenities
Located in City 2000 on Carmichael Road.
Within walking distance of service stations, bus stops, schools, pharmacies and fast food restaurants.
Close proximity to Carmichael Road Police Station.
Near Flamingo Gardens Community Clinic.