Gerald Bartlett Estates
Gerald Bartlett Estates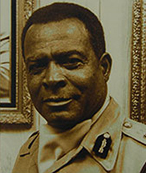 Gerald Bartlett Estates is a lasting tribute to former Commissioner of Police Gerald Bartlett, who served with distinction on the Royal Bahamas Police Force (RBPF) for 41 years. Located just off Cowpen Road, the residential community was commissioned in October 2000. A Grand Bahama native, Bartlett joined the police force as a recruit constable on October 10, 1946. Over the years, he rose up the ranks, serving as a clerk in the office of the Commissioner of the Police, Officer-in-Charge of the Central Division and eventually head of the Traffic Division.
In 1970, Bartlett was promoted to Assistant Commissioner of Police and named Superintendent of the New Providence District. For three years, he served as Senior Assistant Commissioner of Police with responsibility for Grand Bahama. In 1973, Bartlett was promoted once again to Deputy Commissioner of Police before ascending to the highest level of the police force in 1981. Bartlett served as Commissioner of Police for six years until his retirement in 1987. However, his unwavering dedication to public service did not end there. Following his retirement, Bartlett was appointed to the Police Service Commission.
Location and Amenities
Located off Cowpen Road in the Southwestern district of New Providence.
Located near churches, public and private schools.
Close proximity to Golden Gates Shopping Plaza.
Community pool.