RE Cooper Estates
RE Cooper Estates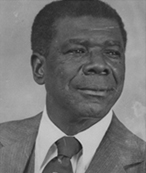 Reverend Dr. Reuben Edward Cooper was a driving force in the country's fight to achieve Majority Rule and the founding pastor of Mission Baptist Church. When The Bahamas achieved independence on July 10, 1973, R E Cooper delivered the country's first Independence Day sermon. Dr. Cooper also played a pivotal role in the establishment of Jordan Memorial School and Prince William High School.
During his 40 years of Ministry, Dr. Cooper served as President of the Bahamas National Baptist Missionary and Educational Convention, President of the Bahamas Christian Council and Chaplain of the Senate, Princess Margaret Hospital and Her Majesty's Prison.
Location and Amenities
Located off Prince Charles Drive.
Close proximity to public and private schools, churches, shopping centers, banks and fast food restaurants.