Leviticus Adderley Estates
Leviticus Adderley Estates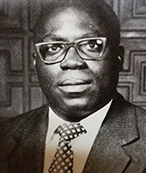 Leviticus Adderley Estates serves as a constant reminder of the many contributions made to national development by Deacon Leviticus Adderley. Located just off of Bacardi Road, this subdivision was established in 2006 to bring families together just as Deacon Lou did during his stellar career. Adderley was an exemplary principal, teacher, mentor and coach at Saint Augustine College (SAC).
Adderley also coached national basketball and volleyball teams, which he led to major international sporting events, including the Pan American and Caribbean Games. He was a founding president of The Bahamas Association of Certified Officials (BACO) for track and field and was inducted into the Bahamas Amateur Basketball Association Hall of Fame in 1982. He was also dedicated to his family and his church, leaving an indelible impression on the thousands of young Bahamians he taught and coached.
Location and Amenities
Located in the Western district of New Providence.
Short driving distance to Lynden Pindling International Airport.
Close proximity to schools, churches, grocery stores and community parks.