Cynthia Wells Estates
Cynthia Wells Estates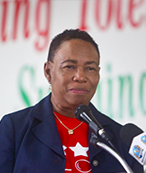 Eastern New Providence is home to Cynthia Wells Estates, a residential community, off Prince Charles Drive, bearing the name of the veteran educator.
"I am grateful for the opportunity", said the St. Anne's School Principal, who has dedicated her decades-long career to shaping young minds. Wells has taught at the Anglican school since 1988, spreading her love of knowledge across generations.
A graduate of Queen's College, one of the country's top private schools, Wells has helped to maintain St. Anne's enviable reputation as a school of academic excellence. Cynthia Wells Estates is located near Canon John Pugh Estates and Rita Pugh Estates, which were named in honor of two former St. Anne's School principals.
Location and Amenities
Located off Prince Charles Drive.
Close proximity to public and private schools, churches, shopping centers, banks and fast food restaurants.