Arthur Hanna Heights
Arthur Hanna Heights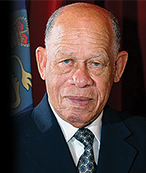 In 2021, Arawak Homes named one of its newest subdivisions, located off Faith Avenue and Carmichael Road, in honor of Bahamian patriot, former Governor General and Deputy Prime Minister Arthur Dion Hanna.
Born in Acklins, Hanna fought fearlessly for the Bahamas to achieve independence in 1973. He was first elected as a member of Parliament in 1960 in the Ann's Town Constituency. He was re-elected in 1962, 1967, 1968, 1972, 1982 and 1987.
Hanna was appointed deputy premier following the attainment of majority rule in 1967, and later, deputy prime minister. During his storied political career, he served in several ministerial capacities, including Minister of Education, Minister of Trade and Industry, Minister of Home Affairs and Minister of Finance. He also served as Governor General from 2006 to 2010.
Hanna's image now appears on the Bahamian $100 bill.
Location and Amenities
Located off Carmichael Road.
Within walking distance of bus stops, schools, churches, banks, shopping centers and restaurants.
Close proximity to Carmichael Road Police Station.