Frank Rutherford Close
Frank Rutherford Close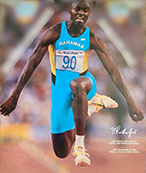 In keeping with its mandate to provide quality affordable housing for hundreds of Bahamian families while honoring the accomplishments of great Bahamians, Arawak Homes Limited celebrated the legacy of Olympian Frank Rutherford by naming one of its subdivisions "Frank Rutherford Close".
Located off of Prince Charles Drive, the community features 21 lots for single-family homes and multi-family duplexes.
Rutherford holds the distinction of winning The Bahamas' first Olympic medal in track and field after he scored the bronze medal in the triple jump event during the 1992 Olympic Games in Barcelona, Spain.
Rutherford also won the country's first World Championship medal with a bronze in the 1987 IAAF World Indoor Championships. He was the US Indoor Track and Field champion in the triple jump in 1991.
In addition to achieving historic wins for the country, Rutherford has paved the way for future generations of Bahamian athletes to represent their country in the international arena by helping them to secure scholarships and other opportunities abroad through the Frank Rutherford Foundation.
Location and Amenities
Located off Prince Charles Drive.